Tweets of Charlotte Proudman
Jump to navigation
Jump to search
The Tweets of Charlotte Proudman is a page with selected tweets written by Charlotte Proudman.
29 August 2022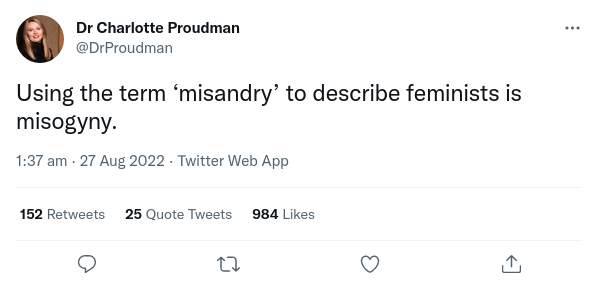 Proudman provides a fine example of the over-use of the term misogyny.
12 September 2022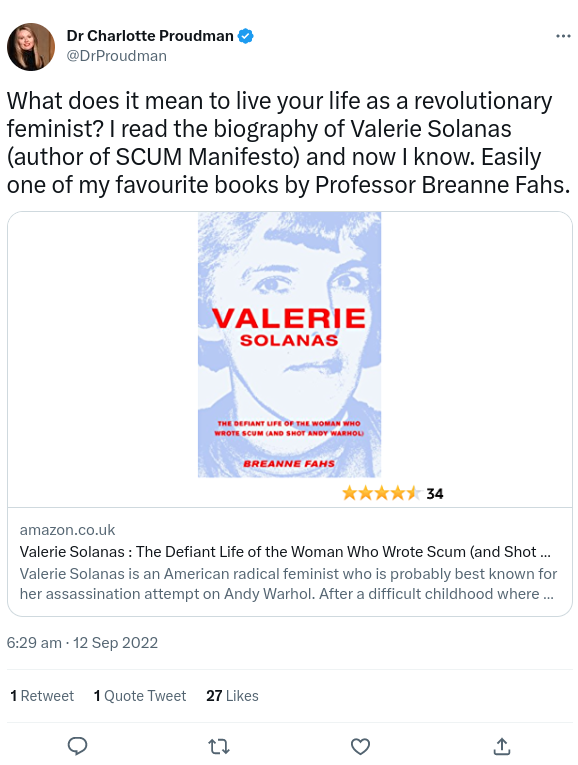 Proudman endorsing Valerie Solanas as a role-model for feminists and encouring them to follow the SCUM Manifesto.[1]
13 November 2022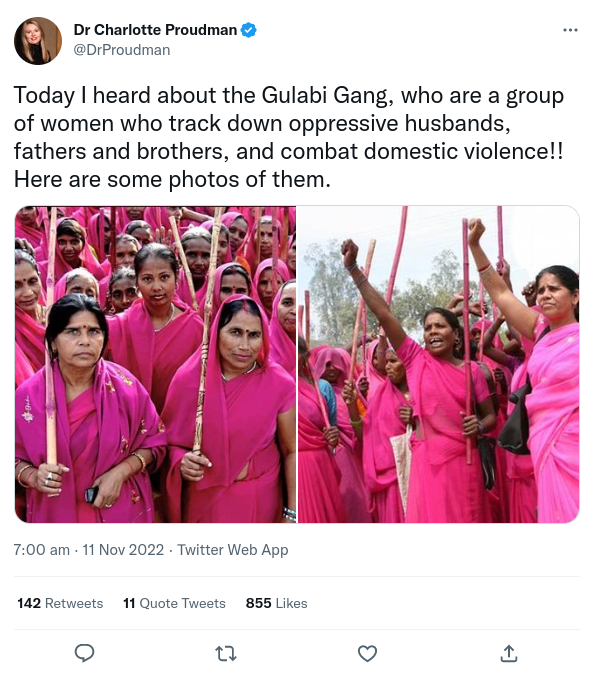 Proudman praises the Gulabi Gang who beat men who are alleged to have committed domestic violence.
20 November 2022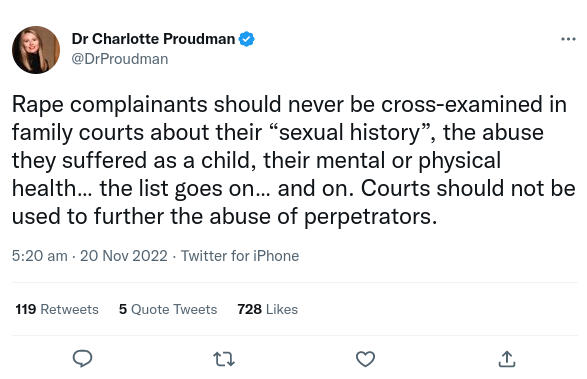 Proudman, a barrister, asserts accused men are perpetrators rather than defendants.
28 November 2022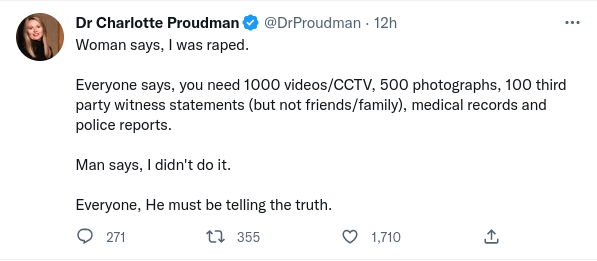 The casual misuse of the word everyone is extraordinary coming from a barrister making a public statement.

Proudman, a barrister, casually misuses the word literally when making a public statement.
30 December 2022

Proudman talks about fragile masculinity.
14 January 2023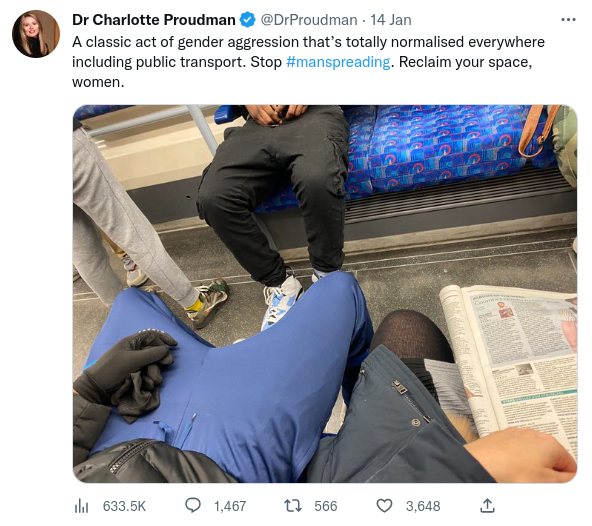 Proudman on manspreading.[2][3]
23 January 2023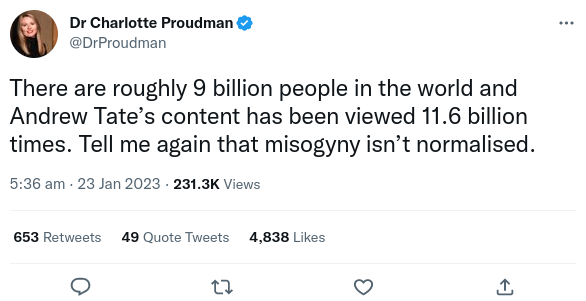 Proudman incorrectly claims the population of the Earth is nine billion. As of 2023 the population of the Earth is eight billion.[4]
27 January 2023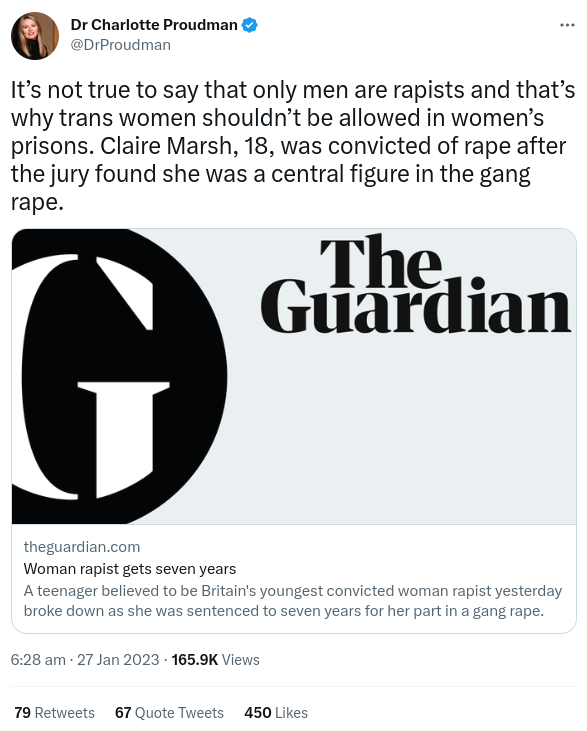 Proudman, admitting that women can rape.
10 February 2023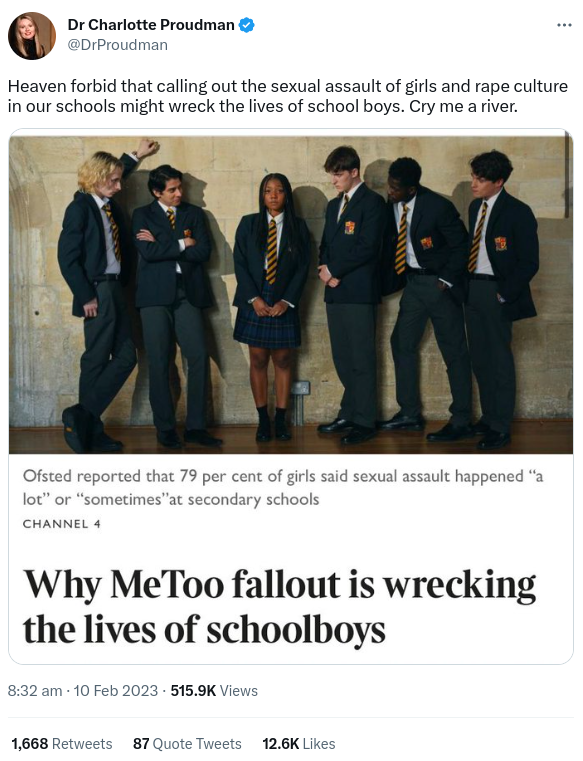 Proudman with her usual standard of empathy for boys and men.
11 February 2023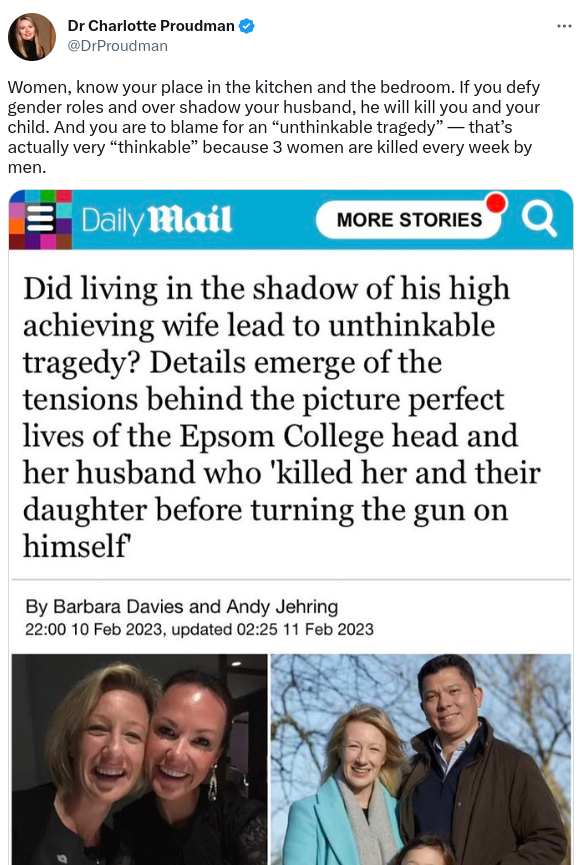 26 February 2023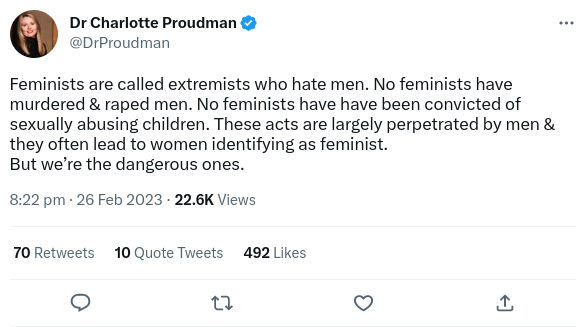 More imprecise language from a barrister. Counter examples include Donna Hylton and Valerie Solanas.[5]
3 March 2023
6 March 2023
8 March 2023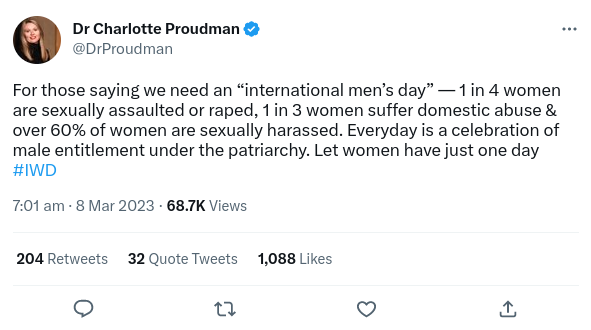 12 March 2023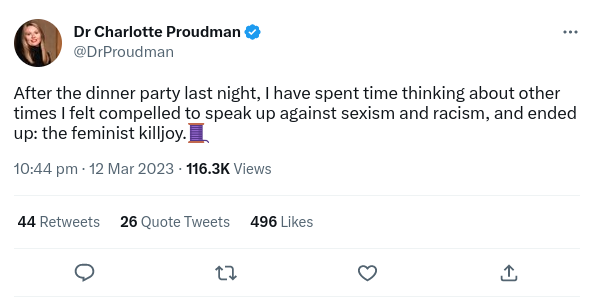 Proudman admits to being a feminist killjoy.[11][12]
13 March 2023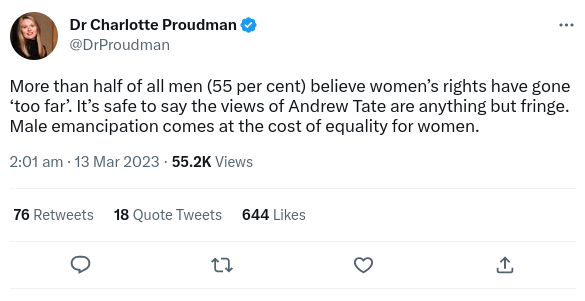 Proudman concedes that men have issues but rejects assiting them out of the belief that it will harm women.[13][14]
15 March 2023

Proudman, apparently unaware that women tend to go naked in public far more often than men and that this is legal, de facto or de jure, across most of the Western world.
19 March 2023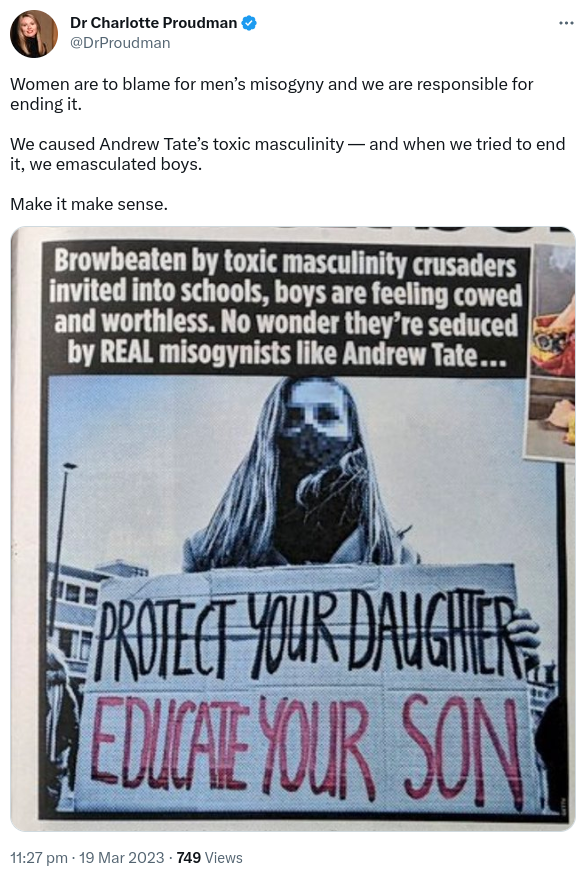 23 March 2023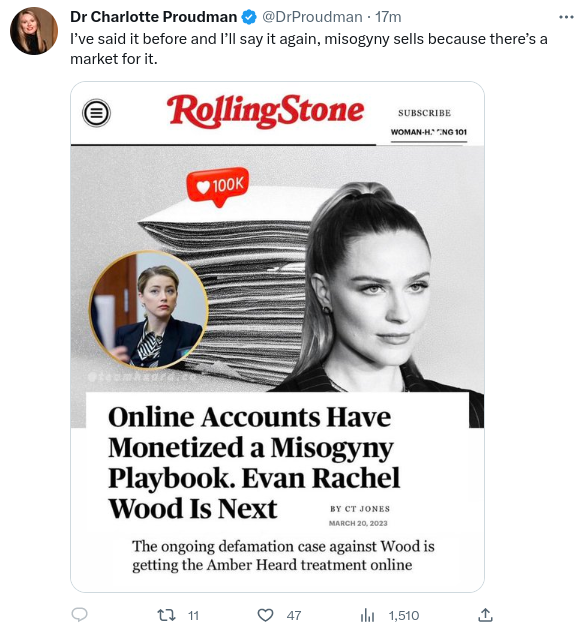 The same publication that introduced the world to Jackie.

Additionally Dr Proudman has recently restricted commenting.
27 March 2023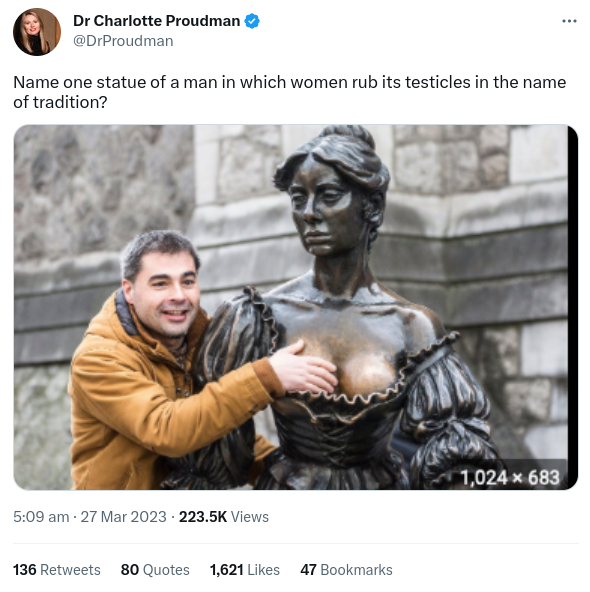 As of 27 March 2023 comments are apparently no longer restricted.
1 April 2023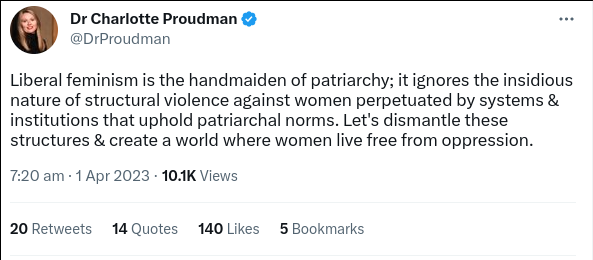 3 April 2023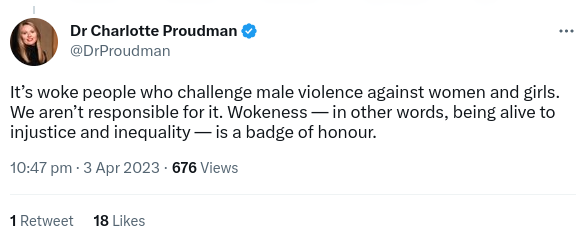 Proudman confirms the existence of woke.[15][16]
19 April 2023

Proudman uses plain language to make it clear that abuse is something men do to women.[17][18]

Proudman refers to the feminist historical narrative.[19][20]
20 April 2023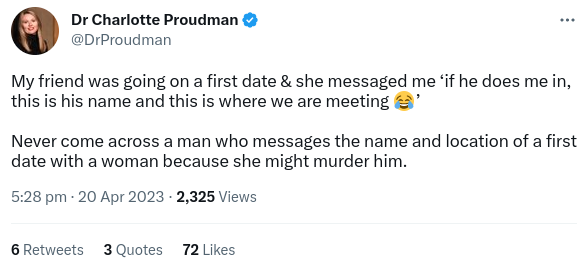 Men tend to under-estimate risk while women tend to over-estimate risk.[21][22]
21 April 2023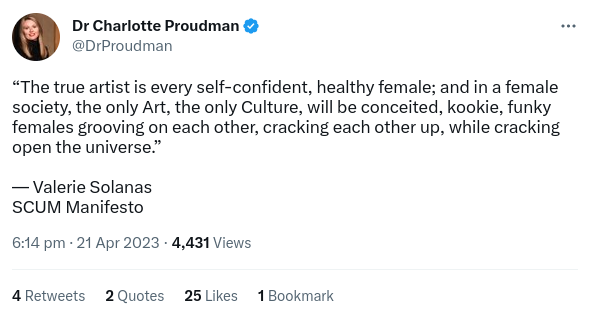 Proudman quotes from the SCUM Manifesto written by Valerie Solanas.[23][24] Solanas openly hated men and attempted to kill Andy Warhol.
See Also
References