Edyta Malgorzata Sonta
Jump to navigation
Jump to search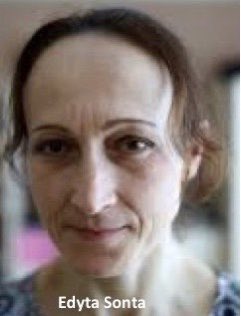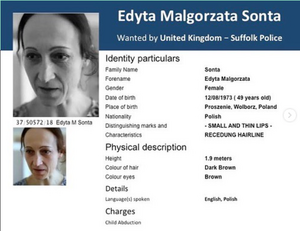 Edyta Malgorzata Sonta is the mother of Rhian Toolan and the ex-wife of Tom Toolan. Sonta previously lived in the United Kingdom where Tom Toolan continues to live. On 9 August 2018 Sonta fled the UK for her native Poland, taking four year old Rhian with her. It is believed that Sonta and Rhian continue to live in Poland. Mr Toolan last spoke to his daughter online about a year after the abduction.[1][2][3][4][5][6]
A yellow notice has been issued by Interpol for Rhian Toolan.[7][8]
Sonta is wanted by Suffolk police in the UK. Anyone with information on the whereabouts of Sonta or Rhian should contact their local police, citing Interpol Yellow Notice #2022-7859, or contact Suffolk police directly citing Crime Ref: 37/50572/18.
External Links
References