A Voice for Men
Jump to navigation
Jump to search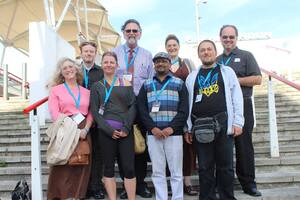 A Voice for Men (AVfM or AVFM) is the flagship site for the men's rights movement. AVfM was founded by Paul Elam and has been owned & run by Robert Brockway since 21 January 2022.[1]
Feminists routinely denounce the site as misogynistic. Most of the articles which have been interpreted as inflammatory, however, are in fact satire of feminist publications and reveal misandric double standards.
In 2018 the Southern Poverty Law Center (SPLC) classified A Voice for Men as a hate group.[2][3]
In 2022 SPLC removed the classification, noting that A Voice for Men is now run out of Australia by Robert Brockway.[4][5]
Wiki4Men is brought to you by A Voice for Men.
See Also
External Links
References