Media encourages women to avoid marriage and relationships with men
Jump to navigation
Jump to search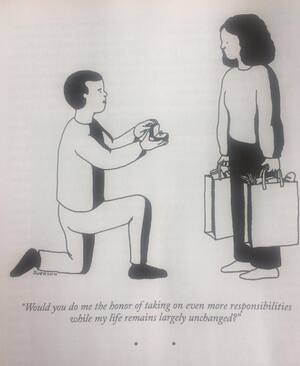 If women believe in The Patriarchy they shouldn't enter in to relationships with men as feminism] claims it is a construct of The Patriarchy to exploit women and that all heterosexual sex is rape. The feminist influenced media actively discourages women from forming relationships with men.
October 2017
Quote from the Australian Broadcasting Corporation:
Natasha said she felt fulfilled by her business and the only time she missed having a man was when things needed doing around the house.[1][2]
March 2018
May 2018
August 2018
According To Science, Husbands Are A Bigger Cause Of Stress For Wives Than Children.[7]
Male Pleasure Robots Will Replace Men For Good.[8]
September 2018
December 2018
March 2019
May 2019
August 2019
January 2021
May 2022
July 2022
Woman gives up on dating men.
"I don't want to do anything for you. I don't want to cook for you, I don't want to clean for you, I don't want to be your secretary and set your appointments and chase you around," [32]
References