Child abuse

The World Health Organization states that child abuse, which is sometimes referred to as child maltreatment and neglect, includes all forms of physical and emotional ill-treatment, sexual abuse, neglect, and exploitation that results in actual or potential harm to the child's health, development or dignity.[1] The consequences of maltreatment include suffering to children and families that can have long-term consequences. Child abuse is associated with high levels of stress that is associated with disruption in early brain development, as well as impairment in the development of the nervous and immune systems. Maltreated children are at increased risk for behavioural, physical and mental health problems as they mature, including perpetrating or being a victim of violence, depression, smoking, obesity, high-risk sexual behaviours, unintended pregnancy, alcohol and drug misuse, and suicide.[2]
Definitions and perpetrator data by country
United States
In The United States, the Federal government defines child abuse as "any recent act or failure to act on the part of a parent or caretaker which results in death, serious physical or emotional harm, sexual abuse or exploitation; or an act or failure to act which presents an imminent risk of serious harm."[3] Within this framework, the States are responsible for providing civil and criminal definitions within their respective jurisdictions. There are, in general, six types of abuse recognized by most States, these being physical abuse, neglect, sexual abuse, emotional abuse, parental substance abuse and abandonment.[4] In 2011, 885,003 cases of child abuse by a total of 508,849 perpetrators were reported with most cases (539,647) being instances of neglect. In general, a large majority (>80%) of cases involved one or both of the victim's parents. Two thirds (68.7%) of perpetrators were 20-39 years old, and half (48.4) were white. Perpetration was split fairly evenly between the sexes (53.6% female, 45.1% male, 1.3% unknown).[5]
According to 2006 U.S. government data, eighty three percent of substantiated perpetrators of child abuse are the victimized child's parents acting alone or with another person.[6] The demographic snapshot for perpetrators of child abuse is as follows:
Perpetrators:
Mother only = 39.9%
Father only = 17.6%
Mother and father = 17.8%
Nonparental perpetrator = 10.0%
Unknown or missing = 7.6%
Mother and other = 6.1%
Father and other = 1.0% [7]
Australia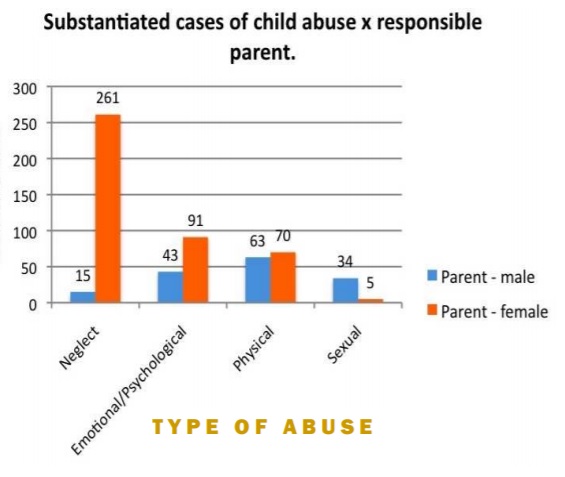 In Australia a perpetrator sample of 582 cases of substantiated child abuse by parents shows that mothers committed 73 per cent of parental child abuse, while fathers were responsible for 27 per cent. In this sample mothers were responsible for 161 cases of neglect, 72 emotional and psychological, 76 physical and 3 sexual abuse cases against their children. In the same financial year, fathers were responsible for 37 cases of neglect, 41 emotional and psychological, 65 physical and 22 sexual abuse cases against their children.[9] Professor Michael Woods from the University of Western Sydney stated that the data was not surprising as it was in line with the international findings regarding perpetrators of child abuse, and added that the data debunked a common misconception about fathers being the most major risk for their children's wellbeing. He stated that the common myth about violent fathers resulted from previous data-aggregation practices (in child protection departments) of lumping de factos, live-in boyfriends and overnight male guests together in one category with fathers as "male carers" which had distorted beliefs about who abused children.[10][11]
A breakdown of child abuse perpetrator data for the year 2007-08 by the Department of Child Protection in Western Australia is as follows:
Perpetrators:
Mother only = 28.3%
Father only = 10.2%
Defacto parent male = 2.6%
Defacto parent female = 0.2%
Step parent male = 2.6%
Step parent female = 0.1%
Other male = 7.8%
Other female = 2.0%
Not recorded = 46% [12]
Victims
In The United States in 2011, 676,569 unique victims of child abuse were reported by the States. In general, the victims came primarily from the lower age groups. About two fifths (43.9%) of victims were white and half (51.1%) were female.[13]
References